What it takes to foster service delivery excellence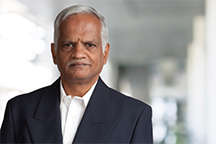 by Sarma Manthravadi, Senior Vice President, Operations
SenecaGlobal is dedicated to serving clients to their delight–in fact, it's the core purpose of our existence. We derive our success in client's business success. Our business thrives by delivering exceptional value to clients, which influences customers to be our promoters. In other words, we like to let the quality of our work do all the talking. Our intentional delivery of excellent service necessitates a well-oiled team effort: our human resources, delivery process, supporting infrastructure, and focus on communication all work together to produce a professional atmosphere that encourages growth.
My team and I consistently work to improve the quality of our focus and keep our scope steady on what matters most. To us, quality is the first principle for greatness, and we take this attribute seriously in every sense of the word. SenecaGlobal is where our personal belief system and business goals intersect; we aim to deliver a holistic and mutually beneficial experience through our work, products, services, interactions and relationships.
Let's dig into these principles and their function in daily endeavors:
Combining our values—staff and clients alike
Meeting the scope of a product or service with a solution that promotes increased business power.
Valuing effective, clear communication and suggesting added insight for a project or service.
Aspiring towards a shared vision with clients and encouraging virtual collaboration.
Our client focused and competent professionals integrate with client team to deliver with same team spirit.  
We aim to inspire patrons with our confident and professional manner.
Understanding client business priorities and acting as a true delivery partner.
Seamless quality, on time
Delivering quickly or ahead of schedule–we won't keep you waiting.
Optimizing cost by reducing the price of ownership for a client, even beyond our contractual commitment.
Our model rests on a foundation of scalable and transparent delivery processes that produce consistent client experiences.
Innovation at the ready
Kaizen improvement and incremental innovation are way of life at SenecaGlobal with a singular purpose of delivering 'more business value' to clients
We leverage technology through innovative engineering to deliver high-impact business solutions to achieve client delight.
Doing it the right way the first time
We deliver a zero-defect product or service—this eliminates the costly back-and-forth of error correction and anchors your confidence in us.
We assign the most skilled expert to each project every time. We recognize that all human beings have unique abilities and strengths; that's why it's important to us that your specialist is as passionate about your project as you are. It's our mission to make sure that every consultant is equipped with the correct tools to be the most reliable fit for you—after all, the magic formula for synergy is quality of process + quality of personnel.
SenecaGlobal team spirit
Our crew is top-notch quality, and we take pride in:
Functionality in technology and engineering alike.
Excellent team management, self-regulation and motivation.
Finding ways to be productive and resourceful–especially when the solutions are hard-won.
Managing time effectively by prioritizing critical tasks.
Creatively communicating using business-forward language.
Taking commitments seriously.
Living in a way that honors the self, work-life balance and SenecaGlobal's virtues.
A healthy outlook, which consists of a healthy mind in a fit body.
Making continuous improvements and elevating the market standard is the engine behind continuous forward motion, and it's important to us to be intentional about service delivery excellence. SenecaGlobal is invested in elevating companies and their missions, which is why we take special care to curate our culture, crew and core values with you in mind.
Founded in 2007, SenecaGlobal is a global leader in software development and management. Services include software product development, application software development, enterprise cloud and managed services, quality assurance and testing, security, operations, help desk, technology advisory services and more. The company's agile team consists of world-class information technologists and business executives across industries, ensuring that we provide clients with a strong competitive advantage.
SenecaGlobal is headquartered in Chicago, Illinois, and has a state-of-the-art software development and management center in Hyderabad, India. The company is certified as a Great Place to Work® and is ISO 9001 certified for quality and ISO 27001 certified for security.