Get more out of your ERP system to accelerate success
Implementation | Optimization | Managed Services
Take control of your operations
The promise of enterprise resource planning (ERP) solutions is timely access to data that drives better strategic decision making.
Rely on SenecaGlobal to provide the expertise and services you need to get the most out of these powerful tools.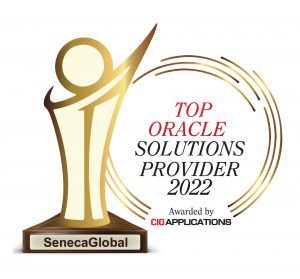 Recognized as a leading solution provider
CIO Applications recognizes SenecaGlobal as a Top 10 Oracle Solutions Provider
SenecaGlobal NetSuite solutions
SenecaGlobal is with you every step of the way to make sure you get the most out of NetSuite. The cloud-based solution is ideally suited for growing businesses that want better control over finances and operations. Figuring out the right configuration for your firm can seem overwhelming. That's why companies rely on SenecaGlobal for expert assessments, implementations and managed services.
Learn about your business challenges and needs
Assess current architecture and systems
Discover opportunities to:

Reduce operating costs
Increase revenues
Optimize business and supply chain processes

Develop change management strategies
Business-First Implementations
Optimized implementation to meet your needs with customizations and workflows
Led by senior, experienced technology experts with industry-specific domain expertise
Follow a proven methodology
SenecaGlobal JD Edwards solutions
Whatever stage you're at with your JDE system, SenecaGlobal's team of senior technologists have the on-the-job experience and knowledge to optimize your current implementation, provide new functionality upgrades and manage the system for you. Results include better performance and lower costs for IT staff, applications and system maintenance.
JDE Application Extensibility
Evaluate your business plan and ERP assets
Provide recommendations on how to streamline the JDE solution to meet your business needs more efficiently
Add new processes, reengineer existing processes, add third-party applications or integrate other applications to extend your footprint
Perform environment audits, document findings and provide recommendations based on industry and Oracle best practices
Follow a proven methodology to transition to JDE EnterpriseOne (E1) application to benefit from JDE's newest features and functionality
Implement change management strategy and training to ensure successful transition for system users
Offer 24/7 operations support
Enable access to help desk tools, reporting and global ticketing services
Monitor applications, databases and system performance
Ensure security standards and compliance
Why work with SenecaGlobal?
Our team of ERP experts has the application and industry expertise to optimize your current system as well as manage standard and complex implementations and ongoing operations.