Get more out of your ERP system to accelerate success
Implementation | Optimization | Managed Services
Take control of your operations
The promise of enterprise resource planning (ERP) solutions is timely access to data that drives better strategic decision making.
Rely on SenecaGlobal to provide the expertise and services you need to get the most out of these powerful tools.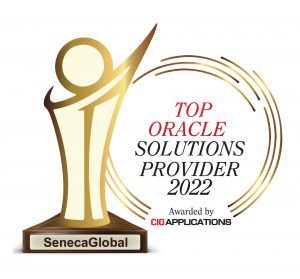 Recognized as a leading solution provider
CIO Applications recognizes SenecaGlobal as a Top 10 Oracle Solutions Provider
SenecaGlobal JD Edwards solutions
Whatever stage you're at with your JDE system, SenecaGlobal's team of senior technologists have the on-the-job experience and knowledge to optimize your current implementation, provide new functionality upgrades and manage the system for you. Results include better performance and lower costs for IT staff, applications and system maintenance.
JDE Application Extensibility
Evaluate your business plan and ERP assets
Provide recommendations on how to streamline the JDE solution to meet your business needs more efficiently
Add new processes, reengineer existing processes, add third-party applications or integrate other applications to extend your footprint
Perform environment audits, document findings and provide recommendations based on industry and Oracle best practices
Follow a proven methodology to transition to JDE EnterpriseOne (E1) application to benefit from JDE's newest features and functionality
Implement change management strategy and training to ensure successful transition for system users
Offer 24/7 operations support
Enable access to help desk tools, reporting and global ticketing services
Monitor applications, databases and system performance
Ensure security standards and compliance
Taking stock of your current ERP environment can be a daunting task. Where do you start? What information do you need? How will you find the time? Who will manage the process?
Let SenecaGlobal's ERP experts assess where you're at and develop a strategy to move forward. We'll quickly get a handle on what you're doing now and how to best position your ERP implementation for what's next.
You rely on on your IBM i system but finding resources with the required specialized knowledge can be difficult. SenecaGlobal can help.
We experts on staff with the experience and technical know-how needed to maintain, secure, refresh and optimize your critical business applications.
Why work with SenecaGlobal?
Our team of ERP experts has the application and industry expertise to optimize your current system as well as manage standard and complex implementations and ongoing operations.