SenecaGlobal Ranked One of the 2021 Best Workplaces in Asia by Great Place to Work®
Chicago, Ill. and Hyderabad, INDIA, July 20, 2021 – Great Place to Work®, the global authority on workplace culture, ranks SenecaGlobal number 65 on the Best Workplaces in Asia™ 2021 list. In the largest collection of employee experiences in Asia, over 3.3 million employees from across 16 countries in Asia and the Middle East were surveyed to determine the Best Workplaces™ in the region.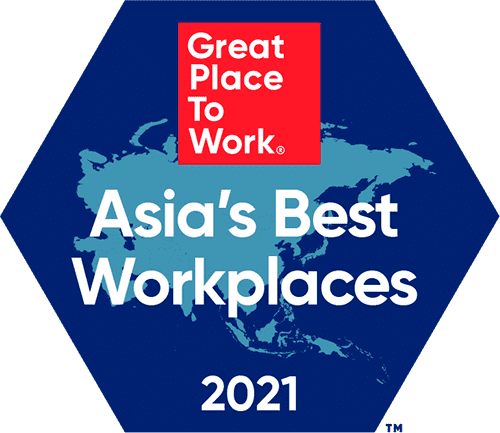 SenecaGlobal was among 200 companies (30 multinational, 70 large and 100 small- and medium-sized enterprises) that were ranked as a Great Place to Work® Best Workplaces™ in the region. This recognition is based on confidential survey data assessing employee experiences of trust, innovation, company values and leadership.
Companies are also evaluated on how well they create a For All™ workplace experience, inclusive of all employees no matter who they are or what they do. This year, COVID-19 brought physical and mental well-being front of mind for both employers and employees.
Interestingly, organizations from India constitute 21% of the Best Workplaces in Asia 2021, making it the country with the highest representation on the list.
On average, companies ranked on the Best Workplaces in Asia™ scored 10% better than those that made it to the National list level — an incredibly high bar as such workplaces are the best of the best in their own country. The Best Workplaces in Asia™ had 15% more employees report:
Feeling that management involves people in its decision-making
Receiving special and unique benefits
Receiving a fair share of the profits made by the organization
The Best Workplaces in Asia™ list is published here: https://www.greatplacetowork.in/asia-best-workplace/
Recognized for Great Work at SenecaGlobal
In response to the Great Place to Work survey, 95% of SenecaGlobal associates said they feel they are making a difference through meaningful work. For the same question, the average ranking from companies included in the India Top 50 Great Mid-Size Workplaces was only 86%.
"We are thrilled to receive this designation as one of the best workplaces in Asia because it recognizes the company's commitment to our core values, which include the pursuit of excellence, delivering as a team and fostering an entrepreneurial spirit," said Rao Tummalapalli, managing director and co-founder of SenecaGlobal. "The culture at SenecaGlobal puts people first to enable all associates to pursue innovation and personal fulfillment."
How Great Place to Work® determines the Best Workplaces in Asia™
Great Place to Work identifies the Best Workplaces in Asia by analyzing companies' workplace programs and surveying employees across Asia and the Middle East about the key factors that create great workplaces for all.
Companies rank in three size categories: Small and Medium (10-499 employees); Large (500+); and Multinational. Multinational organizations are also assessed on their efforts to create great workplaces across multiple countries in the region. They must appear on at least two national lists in Asia and the Middle East and have at least 1,000 employees worldwide with at least 40% (or 5,000) of those employees located outside the headquarters country.
Founded in 2007, SenecaGlobal is a global leader in software development and management. Services include software product development, application software development, enterprise cloud and managed services, quality assurance and testing, security, operations, help desk, technology advisory services and more. The company's agile team consists of world-class information technologists and business executives across industries, ensuring that we provide clients with a strong competitive advantage.
SenecaGlobal is headquartered in Chicago, Illinois, and has a state-of-the-art software development and management center in Hyderabad, India. The company is certified as a Great Place to Work® and is ISO 9001 certified for quality and ISO 27001 certified for security.