6 things to consider before implementing data interoperability in healthcare tech solutions
Six things to consider as you work toward implementing interoperability in your healthcare technology solutions.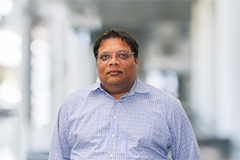 by Sudhansu Mishra, Director, Healthcare Data & Integration for SenecaGlobal
It's easy to lose high-level perspective as your organization aims to take advantage of data interoperability. Regulations, costs, processes, technology hiccups and lack of internal expertise can increase your risk and complicate your efforts.
Instead of getting sidetracked by individual issues, keep focused on your goal: enabling an individual to use their health data in the way they decide is best for their health. Here are six things to consider as you work toward implementing interoperability in your healthcare technology solutions.
1. Focus more on the data than the technology
Concentrate on data sources first. Ingestion and systems are important, but your goal is giving patients access to easy-to-use data, rather than managing data processes and formats.
HL7 FHIR is new — and any new standard, especially in healthcare, brings a wealth of disparate requirements. Regulations, rules and the complexity of the technology can be daunting, especially if you lack expertise and familiarity with the tangle of regulatory requirements.
However, simplicity is key. You might get distracted by considering specific data formats and how to ingest them, but those concerns can wait. Instead, meeting the requirements can be straightforward if you proceed based on the regulation and the standards requirements.
Locate the source data in your applications and databases. Bring an organized approach to mapping that data before undertaking the more technical part of the journey. You'll gain clarity on data, data rules, business rules and creating the source schema and target schema — and these can set you up for success.
2. Be mindful of General Data Protection Regulation compliance
Demographic information plays a key role as per the FHIR patient resource, whether it's coming from your enrollment system or from a data warehouse/master data management (MDM) system. For U.S.-based healthcare organizations with low volume, using a case-by-case approach to sharing that demographic information will suffice. Larger organizations, however, have broader decisions to make about how they'll handle patients' European information as governed by the General Data Protection Regulation (GDPR).
Let's consider how an organization shares patients' European address information, for example. If your MDM stores a patient's European address, your organization may decide to show the data, in compliance with the GDPR. Alternatively, you may choose not to display clinical and other health information, which blocks patient data.
Every organization faces this data dilemma. Consult your legal or compliance team to help you resolve it.
3. Use the data for other use cases
Many industry-standard use cases are emerging as organizations work with the growing pool of available data. As you work toward interoperability, consider how you can incorporate that clinical, financial, administrative and pharmacy data in other use cases.
For example, using analytics within or after the FHIR store, data scientists may be able to perform various other operations or use the data as a source for clinical and other information. Or a payer organization may subsequently build a clinical data repository from the carefully mapped, highly semantic data.
The United States Core Data for Interoperability (USCID) data elements are basic building blocks to managing patient outcomes and quality of care. You could create all kinds of analytics and ways to measure requirements from this nationally mandated, semantically normalized dataset.
Keeping the patient at the forefront of these efforts brings additional value in the forms of compliance and prevention of acute care events. With the application of SMART apps and headless environments in conjunction with legacy electronic health records, you can leverage the expanded data you've ingested from other organizations.
4. Avoid replicating data unnecessarily
Aiming for interoperability, each organization chooses the best approach for their environment. As you seek guidance from partners and software vendors, they might advise you to create multiple FHIR stores — such as enterprise, intermediate and final FHIR stores — to handle small operations.
The downside to this approach is unnecessarily replicating millions of data elements. The required 24-hour turnaround for updates doesn't leave time for replicating data in multiple instances. In addition, the duplicate operations add complexity and cause additional expense.
We can use better architectural approaches, yet unnecessary replication is a problem many organizations encounter. We must address and resolve it as an industry — and you can help do so with your own organization's interoperability design.
5. External payer data doesn't always follow standards
You probably receive external payer data in a variety of electronic formats. While eventually external data must conform to USCore IG rules, for now, it might not.
Data must be ingested in an unmodified format. You have a few options if you don't receive it that way. You could request that the external source organization provide it in the required format — but then again, if they could do that easily and quickly, they probably would have.
Alternatively, you may need to invest in tools that enable you to convert it to the FHIR standard on your own. Such tools could be a smart investment, depending on how long it will be until all your external data consistently arrives in a format that meets FHIR. Until then, you'll continue converting it to USCore/USCDI standards.
6. A FHIR store is not an MDM solution
MDM is a technology-enabled discipline in which business and information technology work together to ensure the uniformity, accuracy, stewardship, semantic consistency and accountability of the enterprise's official shared master data assets.
A FHIR store is a data store that holds FHIR resources. Referential integrity and resource versioning are critical to the effective function of the FHIR store. When we create a FHIR store and perform data ingestion using harmonization processes, generally, we ingest this data to FHIR store with minimal validation because we assume the data is from an MDM.
An MDM ensures that data Is uniform, accurate and consistent so it can serve as the single source of truth. If the data we receive is not from an MDM system — for example, clinical data from an enterprise data warehouse (EDW) system — then we apply custom business rules to check the data during the harmonization process.
However, this process doesn't replicate any existing MDMs via the FHIR store. The single source of truthful patient or provider data remains with the payer's source organization.
Moving forward with purpose
Even with all the challenges, compliance and interoperability are goals within your reach. The key is remembering that despite all the rules, obstacles and noise, the patient is your priority.
---
Founded in 2007, SenecaGlobal is a global leader in software development and management. Services include software product development, application software development, enterprise cloud and managed services, quality assurance and testing, security, operations, help desk, technology advisory services and more. The company's agile team consists of world-class information technologists and business executives across industries, ensuring that we provide clients with a strong competitive advantage.
SenecaGlobal is headquartered in Chicago, Illinois, and has a state-of-the-art software development and management center in Hyderabad, India. The company is certified as a Great Place to Work® and is ISO 9001 certified for quality and ISO 27001 certified for security.